[vc_row][vc_column width="1/1″][rev_slider alias="The Last Straw"][/vc_column][/vc_row][vc_row][vc_column width="1/1″]
#TheLastStraw
[vc_column_text]
Plastic straws are everywhere, we have come to expect them in every drink, from adding a flourish to a cocktail to some saying it even makes a drink taste better, straws have been commonplace in almost every restaurant and bar in the UK for decades. But these short lived tools are usually thrown away without further thought, instantly becoming a source of plastic pollution.
Most straws are made from plastics such as polypropylene and polystyrene, which unless recycled take hundreds of years to break down into tiny pieces of micro plastic that do not disappear. This means small plastic items like straws are finding their way into our oceans and landfills sites, even though the majority of the time they would have only been used for the time it takes to finish a drink.[/vc_column_text]
[rev_slider_vc alias="MakethePledge"][/vc_column][/vc_row][vc_row][vc_column width="1/2″]
The Facts
[vc_column_text]
The UK and USA throw away 550 million plastic straws A DAY
On average, a plastic straw is used for 20 minutes before it ends up in the bin
Even when the straw begins to break down they don't actually break down but turn into tiny bits of microplastic which damage the marine environment and even end up inside of us.
Every plastic straw that was ever made still exists in some form.
Plastic straws are one of the top 10 items picked up at beach cleans worldwide
Entanglement, ingestion and habitat disruption all result from plastic ending up in the spaces where animals live. In our oceans alone, plastic debris outweighs zooplankton by a ratio of 36-to-1.
Everything suffers: tourism, recreation, business, the health of humans, animals, fish and birds—because of plastic pollution.
[/vc_column_text]
[/vc_column][vc_column width="1/2″]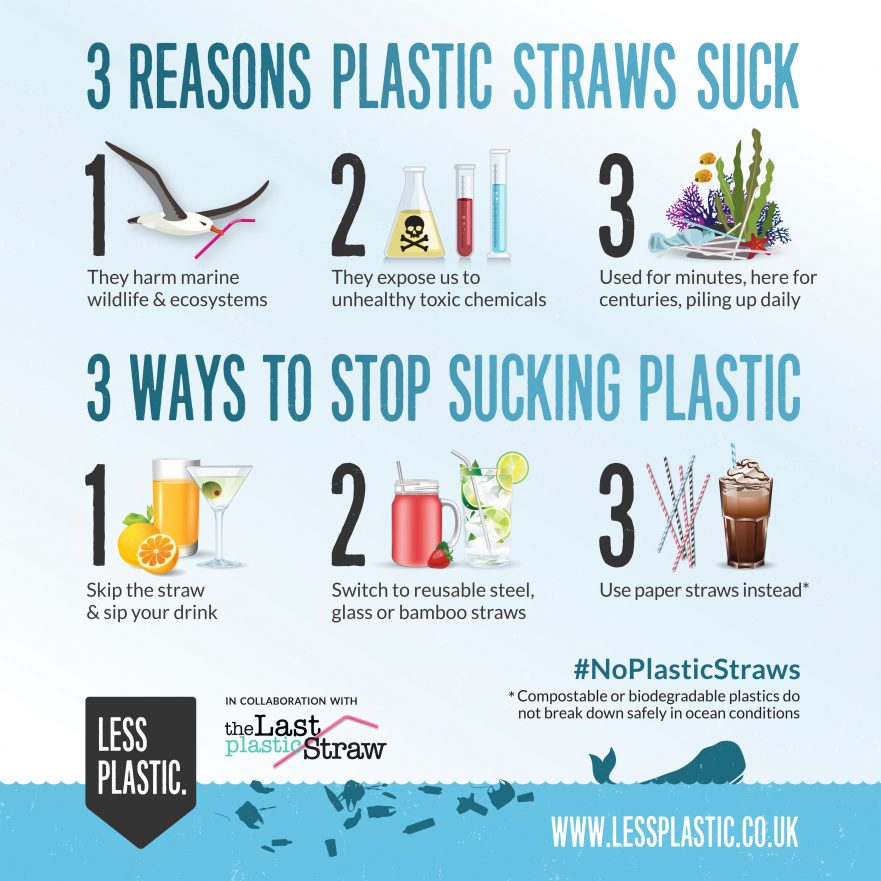 [/vc_column][/vc_row][vc_row][vc_column width="1/2″]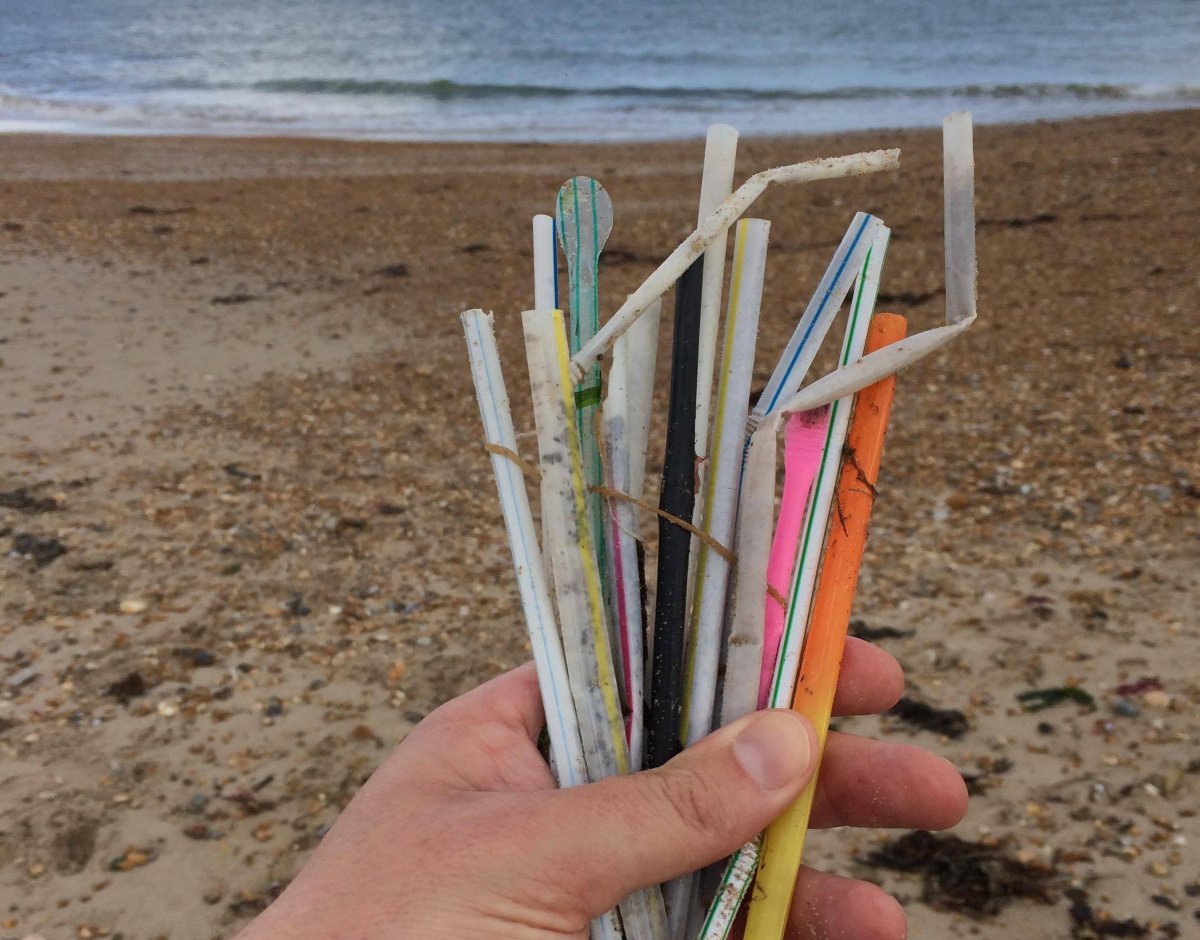 [/vc_column][vc_column width="1/2″]
Take Action
[vc_column_text]
Make a personal commitment – say no to plastic straws.
Use an alternative – stainless steel, bamboo and paper straws are all available and offer a more sustainable approach.
Reach out to some local eateries  and ask them to change their plastic straws to a sustainable alternative.
If you are a business, ditch the plastic straw in 2018
If you are a student, see how you can make a difference at – www.nus.org.uk – the creators of the last straw campaign.
Make the pledge to ditch the plastic straw and show your commitment to the issues and help encourage others to follow suit.
Keep up to date with our campaign by following our social media channels – @litterfreecoastandsea and @litterfreedorset
[/vc_column_text][/vc_column][/vc_row][vc_row][vc_column width="1/2″]
Make the Pledge
[vc_column_text]As a consumer or business owner, you have the power to promote meaningful change. Phasing out single use plastics like the plastic straw from our day to day lives is one of the first steps we can take to reduce our plastic pollution.
By signing this pledge and inviting your friends and family to do the same you are helping to create Litter Free Coast and Sea and a Litter Free Dorset. Scroll down the page to see the list of other people and businesses who have already signed the pledge.
If you are a business signing the pledge then please put the full name of your business in the "First name" box and your town in the "last name" box. This means everyone can see who you are and we can celebrate your pledge on our social media channels.
Help to create a Litter Free Coast & Sea.
[/vc_column_text][vc_column_text]Mailing list: This information is being collected by Dorset Coast Forum (a coastal partnership hosted by Dorset County Council who deliver the Litter Free Coast and Sea and Litter Free Dorset projects in this area). The information will only ever be used to send you a copy of our quarterly e-newsletter and other information related to the Litter Free Coast and Sea and Litter Free Dorset campaigns. We will not share you information with any other individuals or organisations without seeking your permission in advance. The information will be kept for the length of the Litter Free Coast and Sea and Litter Free Dorset projects however you may apply for you information to be deleted from our database at any time. For more information please contact us[/vc_column_text][/vc_column][vc_column width="1/2″]
[vc_column_text][emailpetition id="1″]
[signaturelist id="1″][/vc_column_text][/vc_column][/vc_row][vc_row][vc_column width="1/1″][vc_column_text]
Facts sourced from: 
www.bbc.co.uk / www.plasticpollutioncoalition.org / www.plasticfreepledge.com / www.onelessstraw.org / www.lessplastic.co.uk[/vc_column_text][/vc_column][/vc_row]