[smartslider3 slider="27″]
current projects
"Never doubt that a small group of thoughtful, committed citizens can change the world. Indeed it is the only thing that ever has." Margaret Mead
---


Greening Swanage
An early aim for our group was setting a target to see another 1500 trees being planted in the town, one tree to represent each child that lives here. During the planting season autumn/winter 2019-20 we achieved this by reaching a total of 1600 trees planted across private gardens, schools, farms and verges. The group has become a sub-group with around 10 active volunteers who are now planning new planting projects and other greening initiatives around the town. Summer 2020 projects and campaigns included promoting increasing biodiversity in your gardens, growing your own food and learning about and appreciating nature.
This winter 20/21 we have been involved in 3 main projects, the Prospect Green tree planting and meadow creation (see link to plan below), helping the Town Council designate the Downs as a Local Nature Reserve and supporting Dorset Council with tree planting on a highways verge along the high street.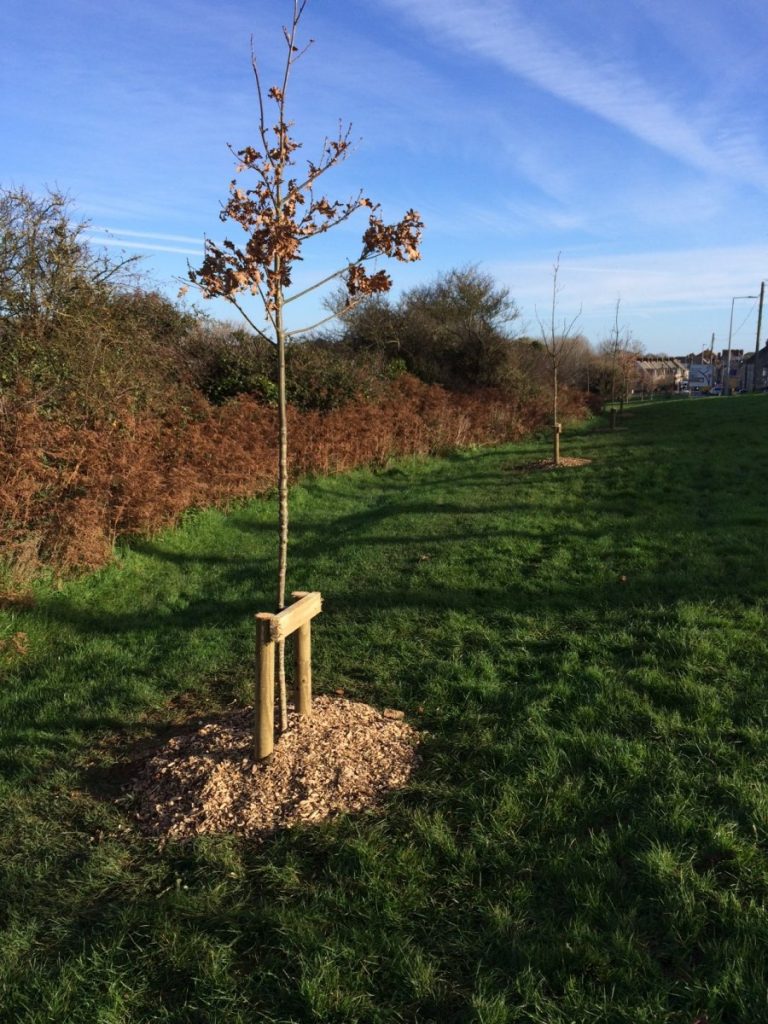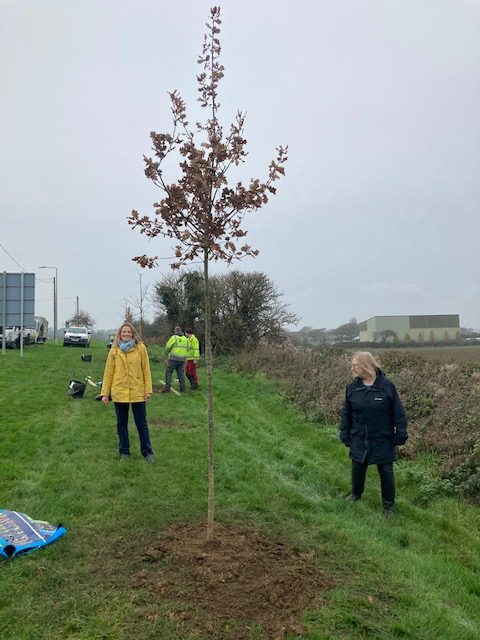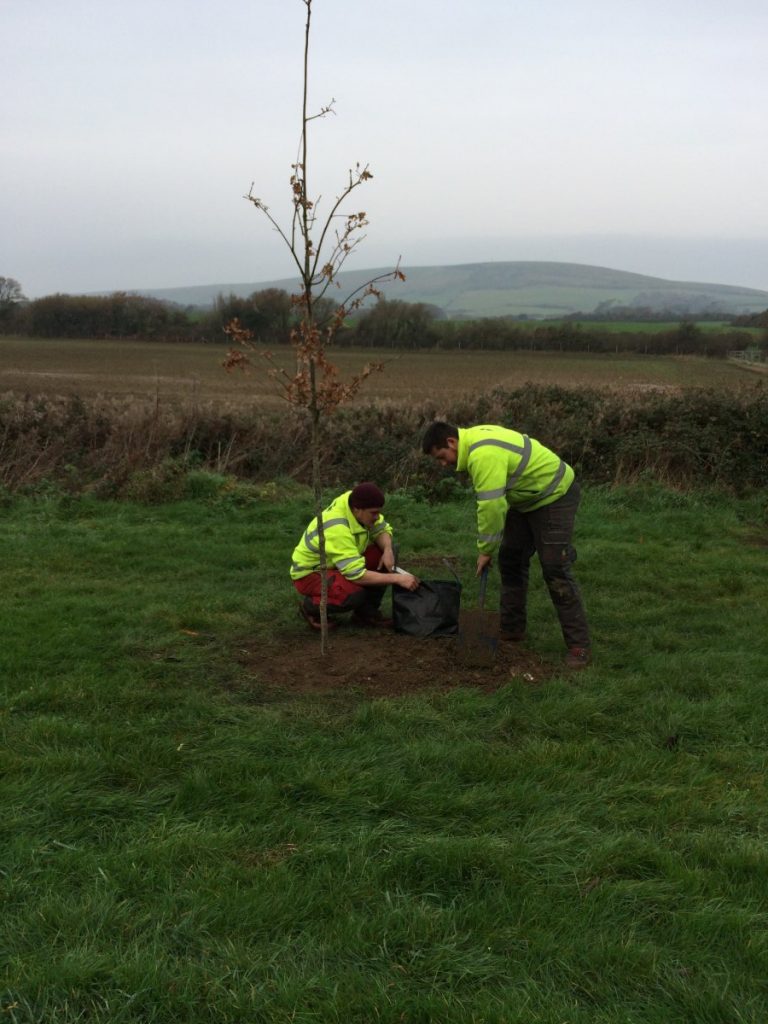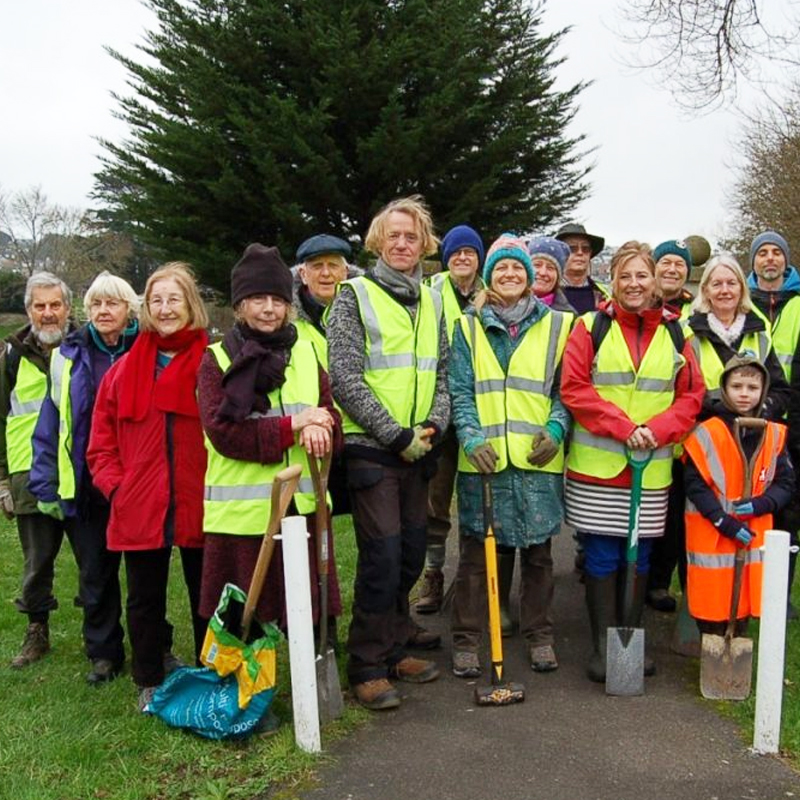 High Street Oaks
This was a join project with Dorset Council who own the verge. Thank you to all those who sponsored the additional oak trees. Enough was raised to pay for the extra 10 trees followed by another 3 that were planted in January. The Council have had good feedback about the new trees and they do look really impressive. We look forward to watching them grow and develop and become a new feature. Read the press release here.
Prospect Green
This project has been developed with members of the community including volunteers from Greengage Community Garden. 10 fruit and nut trees were planted at Prospect Green in early March with the help of Swanage Town Council and volunteers. The next step for developing the site is to lay out the meadow areas, the meadows will take a few years to develop. This season the plan is to see what comes up and flowers and to do regular surveys. We hope to plant and sow new wildflowers in the Autumn. The site will be developed with the community over a number of years and an information board installed soon. Anyone with an interest in the site can get in touch to be involved. The original plans submitted to council can be found on the link below. The tree planting was slightly altered due to ground conditions but the meadows we plan to keep the same and there is an option to do additional planting of a few trees next year.
With special thanks to Simon and colleagues at Holme for Gardens, for providing inspiration, advice and for supplying the trees at a reduced price for this community project.
The Downs LNR
We have been working with the Town Council to help in the process of designating the downs as an Local Nature Reserve. We are helping with the wildlife surveys beginning last summer, setting up a Friends group and helping to form and develop the management plan. We also carried out a public survey on the site in January/February 2021 on behalf of the Town Council and presented the findings to a public open meeting on 23rd March. In response to queries and some concerns we hosted the evening to provide more information on the designation, the process and background to the site and its current management. The survey received a fantastic response of over 400 completed surveys with almost half of respondents signing up to find out more about the Friends Group. These results and the meeting notes will soon be published at the end of April after Easter.
Soon we will begin wildlife surveys including a regular butterfly route that volunteers can get involved in. We are planning a training event for this in May.
Summer Surveys 2021
This summer we will be carrying out a number of wildlife surveys with volunteers across the sites we are involved in and supporting the Town Council in biodiversity audits of some of their other sites.


Sustainable Businesses
Another sub-group who are working together to make it easier for local businesses to become more sustainable by providing information and establishing a co-operative approach. We have held two 'Going Green is Good for Business' events that have brought different people together to discuss what we can all do to minimise our impact. We are supporting businesses in becoming 'plastic free' and also achieving the Litter Free Coast and Sea Business Award.
Work on this group has been put on hold since the pandemic but will continue as soon as we are able.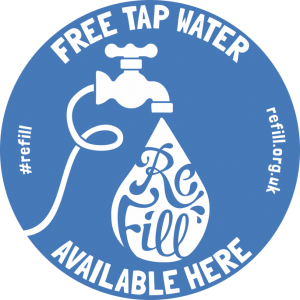 Purbeck Energy Group
This is another sub group that is also made up of members of local parishes and towns. Over the last 12 months they have been having meetings on zoom and are actively working on small and exciting community projects that will increase the ability of residents to obtain more of their energy from renewable sources. Watch this space. One of the projects they were investigating was Solar Streets, which is an initiative that has been run in other communities. In March the Solar Streets Swanage was launched! Please see this article for more information, click on the button below.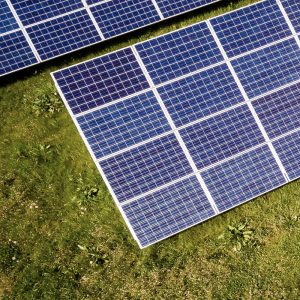 Sustainable Transport
Following on from our January Open meeting we had many enquiries from enthusiastic local residents keen to make a positive difference to their town. We now have a new sub-group working on projects to encourage more use of walking and cycling with the aim to reduce cars on the roads. We are researching and working on several projects and campaigns including aiming to reduce idling by raising awareness, promoting walking to school, co-wheels and bike racks. This May we will be working with local schools to promote walking to school weeks as part of a national campaign. See the active travel plan here.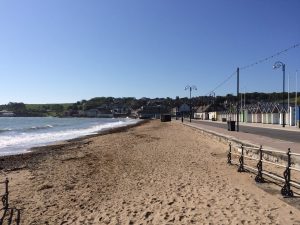 Plastic Free Swanage
In July 2019 Swanage became the 4th Dorset Town to achieve 'Plastic Free Community' Status from the campaign run by the charity Surfers Against Sewage in recognition of the efforts being made to reduce single-use plastic in the town, read press release here for more info. One of the requirements for this award was to set up a steering group which was the basis for Sustainable Swanage and a key part in the group's establishment. Coming together for a collective goal like this has kickstarted many other projects and initiatives.