[smartslider3 slider="18″]
KNOW YOUR DRAINS
Waste cooking oil, food scraps, coffee grounds, gravies and foodstuffs containing fat and grease cause blockages if they go down the plughole. Drains from kitchen sinks are designed only for washing up water and leftover drinks for example.
One way to ensure clog free sinks and drains is by properly disposing of all fats, oils and grease after cooking your meal. Pouring fats, oils and grease (FOG) down the kitchen sink can cause drain and sewer clogs that will block the flow of waste water from your home to the sewage treatment works. FOG mixes with other food waste and wet wipes and congeals and hardens in the pipes.
If clogs occur, this yukky waste water can overflow into your home, garden, street or road and into local waterways.


Key Issues
Waste Cooking Oil
Waste cooking oil, that's vegetable based oils that are liquid at room temperature, can be collected and poured, once cooled into an empty bottle. This can then be taken to your nearest Household Recycling Centre to be recycled. This creates renewable energy, one litre provides enough energy to make 240 cups of tea! Fancy a brew?!
Cooking Fat
A common error is for people to wash up a cooking pan or tray or saucepan without wiping and scraping excess fat first. You should pour the excess fats into a suitable old container and remove once cooled and place the resulting solid fats into your food waste bin. If you didn't collect it, look at what could be going down the pipes! This gunk pot shows the fat leftover from cooking one small meat based meal! Great news, this fat if deposited in the food waste bin, is recycled into fertiliser and energy!
Food scraps, dairy and sauces
Other common misconceptions are items such as coffee grounds, yoghurts, cream, gravy, salad dresssings, cheese and food scraps washing off plates. Many of these fatty foodstuffs will congeal and mix with other fats and oils and cause blockages. Again, if this waste can't be avoided, all this can be scraped out of the container or plate and put into the food waste bin to be recycled.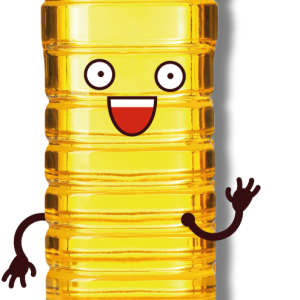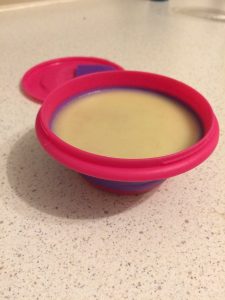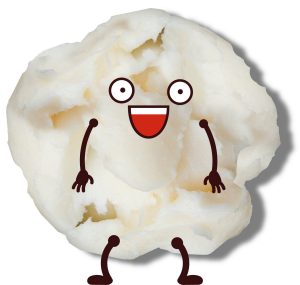 Past campaigns and resources
From May 2018 – March 2020 Litter Free Coast and Sea (LFCS) ran a campaign aiming to reduce the amount of Fats Oils and Grease (FOG) from going down the drains in Swanage through behavioural change with residents and businesses.
The Swanage 'Love our Beach' project was a focused campaign with the aim to reduce sewage pollution incidents by reducing blockages in the drainage system caused by FOG in kitchens and wet wipes and other items incorrectly flushed down the toilet. Attention was also to be given to other ways people can 'love their beach' and look after bathing water quality by reducing litter, waste and also adhering to the 'Only rain down the drain' adage.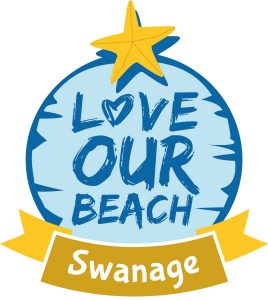 To find out more about the project watch this video…
Key Campaign Initiatives
Promote waste cooking oil recycling and worked with Dorset Waste Partnership to pilot a kerbside oil collection scheme in the area.
Carried out business surveys and engagement events.
Tailored information leaflets, magnets and posters to dispel myths and simplify the message and call to action.
Commissioned an interactive 'love our beach' exhibit conveying the key messages to be permanently housed at the Swanage Information Centre.
Created a campaign video giving a handy overview of the key messages.
Hosted 2 environment days, attended events with the FOG stall, gave talks and presentations to over 750 people.
Took part in the 2019 Swanage Carnival with a 'love our beach' walking procession with 25 volunteers from the community.
Postcard delivered to local residents in the catchment area highlighting the problem and ways they can help.
Created educational resources including a 'fakeberg' and model toilet to highlight the issues at events and talks.
Worked with partners to set up Swanage as a 'Plastic Free Town' and set up a new community group to continue this and other campaigns into the future.
Do you manage holiday properties? Get in touch to obtain free copies of this handy magnet and avoid blockages at your property and protect the beaches people come to enjoy.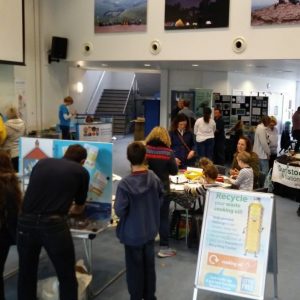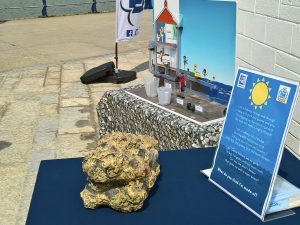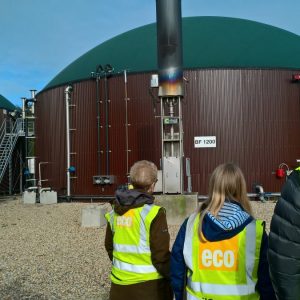 What you can do to help…
At Home
Reduce food waste wherever possible.
Wipe and scrape greasy oily pots, pans, plates and utensils before washing them.
Use strainers in the sink to catch food waste.
Avoid putting cooking fats (collect in a container and allow to cool) and foods such as dairy products, gravies, sauces, spreads and coffee grounds down the sink, put them in the food waste bin instead.
Collect waste cooking oil and recycle at the household recycling centre.
Only flush the 3 P's; pee, poo and paper.
In your business
If you run a commercial kitchen:
Make sure all staff are aware of the steps as left in private kitchens.
If haven't got one already, find out about and install a suitable fat trap to prevent grease and fat from going down the drain.
Recycle your cooking oil and food waste so that it can be converted into energy.
Apply for a Litter Free Business Award to check what other things you can do, once achieved this will let your customers know the steps you are taking to protect the environment.
Out and about
Use a bin – any litter dropped down the drains can either contribute to blockages at the treatment works or if they are connected to the waterways end up in rivers and/or the sea. Cigarette butts are commonly found in drains and cause blockages as well as litter pollution. They contain plastic and harmful chemicals and are particularly dangerous for wildlife. Special pocket stubb pouches are available to smokers enabling safe disposal whilst out and about.
Choose to support facilities that are managed to best to protect the environment if you can.
---
Useful Links and videos
For a handy video explaining how the food waste collection service works and what to put in:
For more information on installing fat traps in your business.
There is useful information on the Wessex Water website: