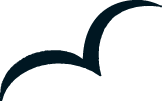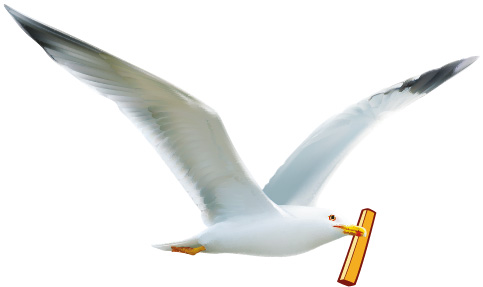 oi! chip thief!
Isn't it a pain when a seagull sneakily steals a chip out of your hands?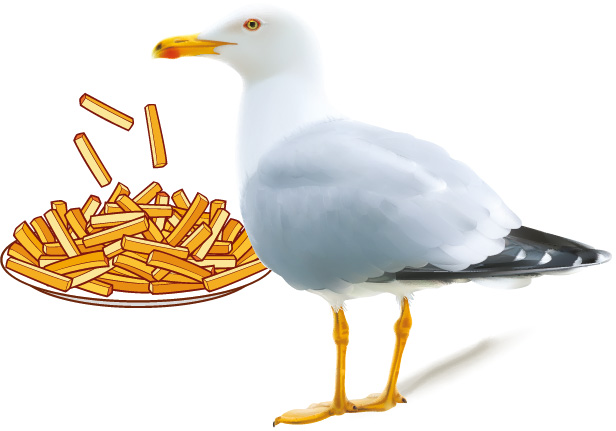 Not only are gulls dangerous when they dive, they end up pooing in the sea where we swim and paddle. The Environment Agency routinely measure the amount of 'bad' bacteria in bathing waters to determine how clean they are, and bird poo can be one source of these harmful bacteria.


campaign overview
We ran this campaign ran from 27 May to 24 June 2017 in Weymouth. We had some really positive and constructive feedback from the campaign. We have fed back to funders and Officers in Weymouth. We will also use the feedback to make the campaign even better the next time it runs. If you would like to run a campaign like this in your town get in touch.
---
#DON'TFEEDTHELOCALS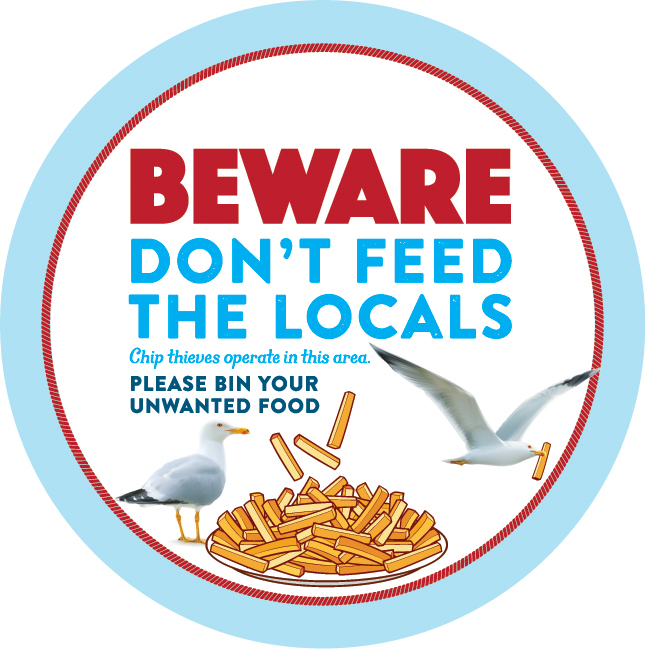 Works with businesses to get involved and spread the word. We provide them with the materials and one positive message to deliver to their customers. See the list of businesses that get involved in Weymouth below.
Host events around the town and seafront getting the message out to visitors and locals about not feeding the seagulls. In Weymouth we had:
• Two giant seagulls visiting Weymouth Seafront on 31 May. Thier cheeky nature created lots of laughs along the seafront and helped spread the message.
• Two Harris Hawks visiting Weymouth Harbour on 2 June. The hawks are used around Weymouth Harbour twice a week to disperse (not attack) the seagulls. Visitors were able to speak to the hawk handlers and play Litter Free Coast and Sea's Magnetic Seagull game.


how to avoid a gull attack
Eat with your back against a wall – this makes it much harder for them to dive on you, or sneak up behind you.
Bin any unwanted food in bins provided; make sure your rubbish goes all the way in and can't be pulled out again by greedy gulls.
Take your plates back inside the café or restaurant when you've finished.
Keep food close to you and stay alert!
Please don't actively feed gulls. Did you know that throwing food to gulls is classed as littering?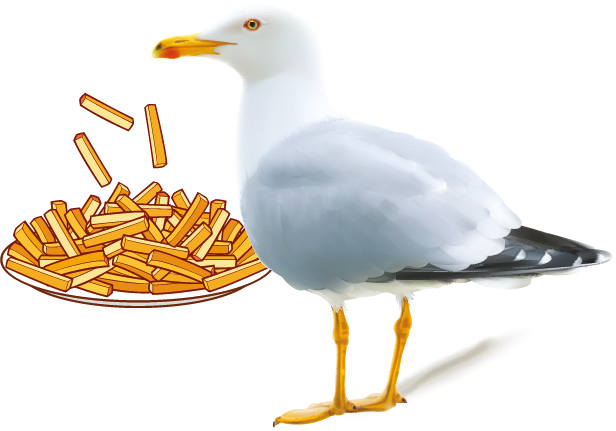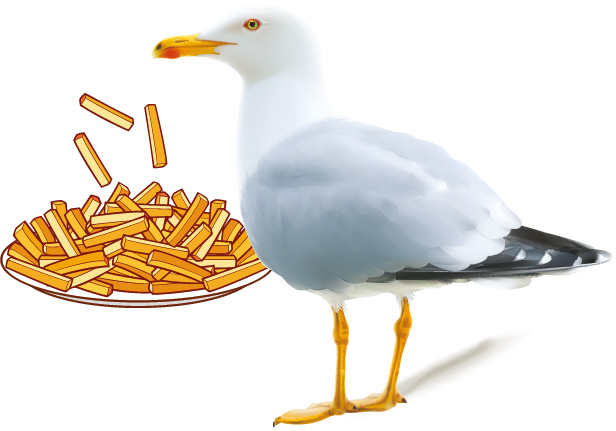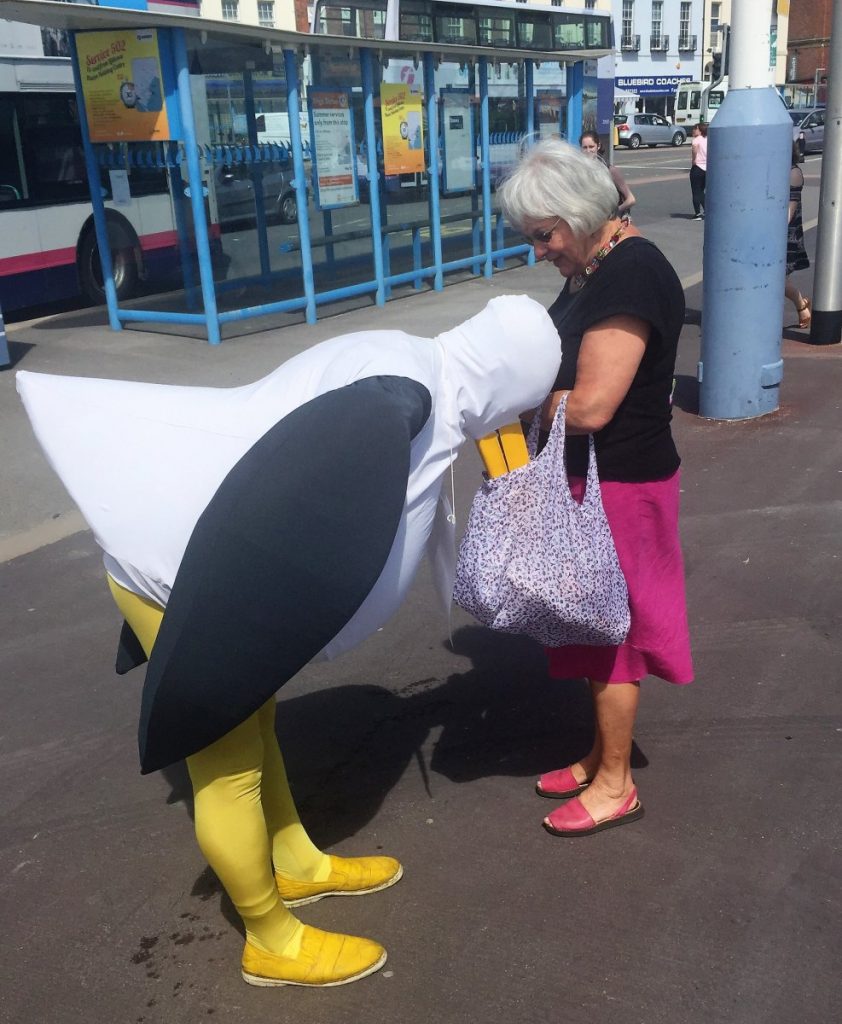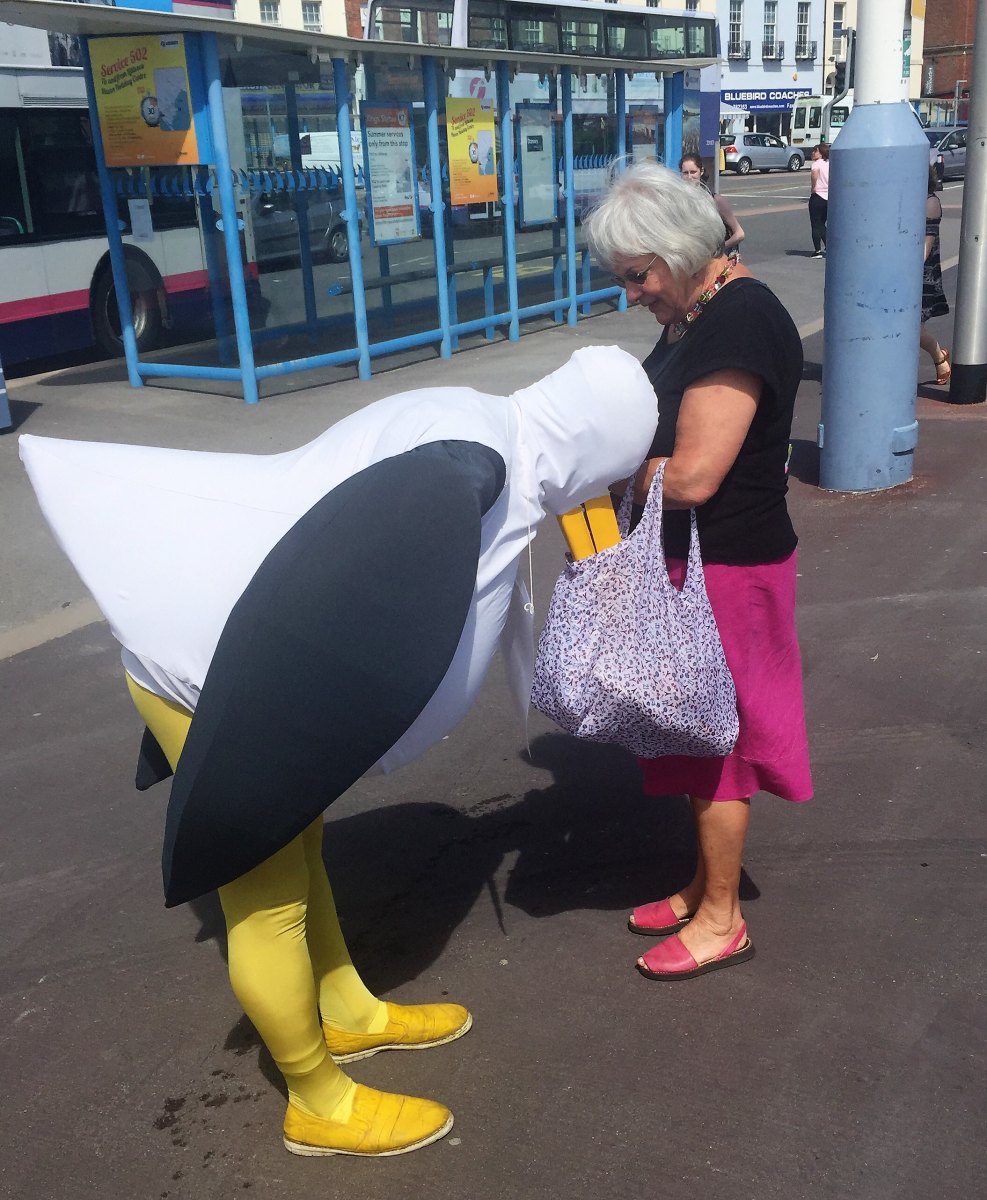 business involvement
The more businesses that get involved in #DON'TFEEDTHELOCALS the more successful the campaign is. We had 45 food outlets and other businesses that engage with visitors (Accommodation providers, theatres etc.) involved in supporting the campaign in Weymouth. See a list below.
It does not cost businesses to support the campaign (we provide the stickers and posters) but businesses benefit by reducing the costs on crockery broken by seagulls. Not to mention the positive impact on bathing water quality this campaign could have.
What ask businesses to get behind #DON'TFEEDTHELOCALS by:
Talking to all your customers about the issue and the campaign that is running – asking customers to use a bin to get rid of their food wrappers and bring their finished plates inside to help clear tables quickly
Put the provided 'don't feed the locals' stickers on all takeaway food – GET IN TOUCH to get hold of yours today
Put a 'don't feed the locals' poster up in your window – GET IN TOUCH to get hold of yours today
Make sure your staff clear outside tables as quickly as possible
Make sure you have provided enough bins for your customers to use
Support and share the campaign running on Litter Free Coast and Sea social media pages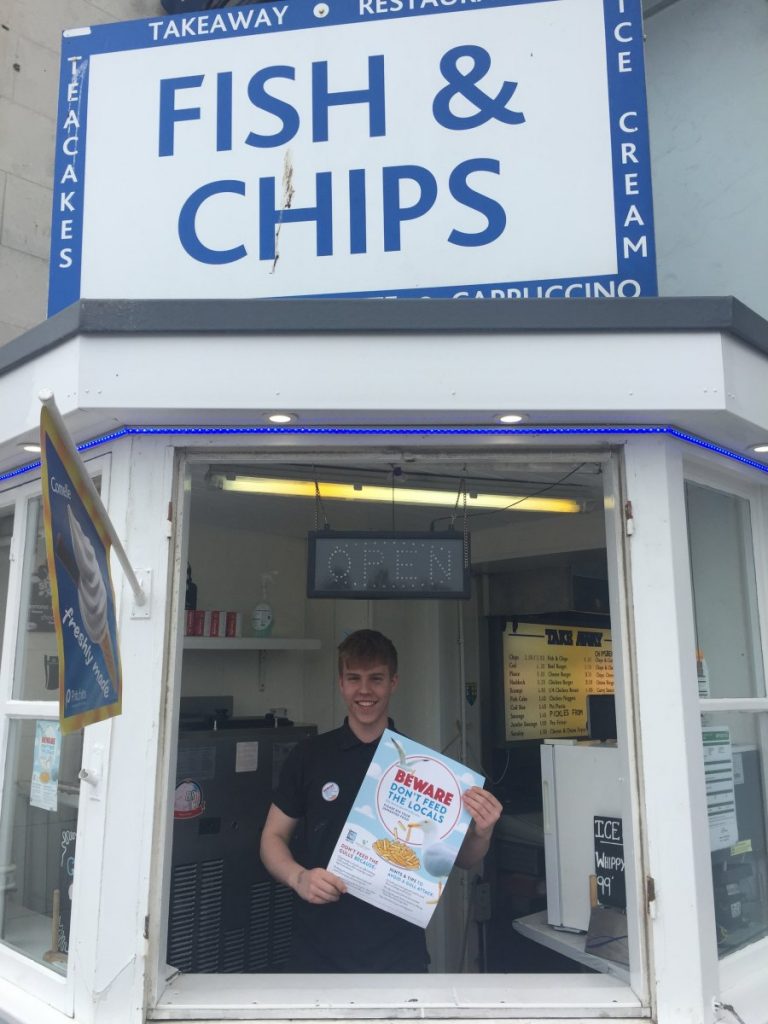 Weymouth businesses signed up to the #DON'TFEEDTHELOCALS campaign:
Aaran Guesthouse
All Day Long (Yates)
Aura
Beachside
Bennett's Fish and Chips
Café Oasis
Channel View Guest House
Criterion Restaurant
Crows Nest In The Square
Edz
Fish N Fritz
Galley Bistro
Harbour Stores
Ice Cream @ No.7
Ivy Coffee House
Lazy Lizard
Marlboro Restaurant
Muffins
No 78 Café
Olivers Guest House
Rossi's Ice Cream Parlour
Royal Oak
Sea Chef
Seacroft
The Anchor
The Boat
The Cactus Tea Rooms and Bistro
The Fish Place
The George Bar and Grill
The Good Life Café
The Kings Head
The Monkeys Fist
The New Vic Bar & Restaurant
The Old Rooms
The Red Lion
The Ship Inn
The Tea Cabin
The View
Time For Tea
Tom & Erin's
Vaughan's
Weymouth Pavilion