[smartslider3 slider="52″]
Respect Protect Collect
Our summer coastal litter campaign for Dorset beaches. This campaign has been designed to promote positive social and littering behaviours at the beach, a friendly environment where people use the bins or, if it is full, take their litter home.
We have designed a set of campaign materials including vinyl banners, posters and bin stickers in collaboration with land owners and community groups, which are placed at popular beaches including: Studland, Swanage, Weymouth, Chesil, Hive, West Bay, and Lyme Regis.
The campaign has been supported by organic social media posts, plus targeted advertising to reach people travelling in Dorset during the summer holidays using the Instagram stories format.
The campaign was designed with local graphic designer Rowena Taylor, West Bay Community Forum, #5thingsclear, Litter Free coast and Sea volunteers, Town Councils, Beach Managers and landowners up and down the coast. It was a real collaborative effort.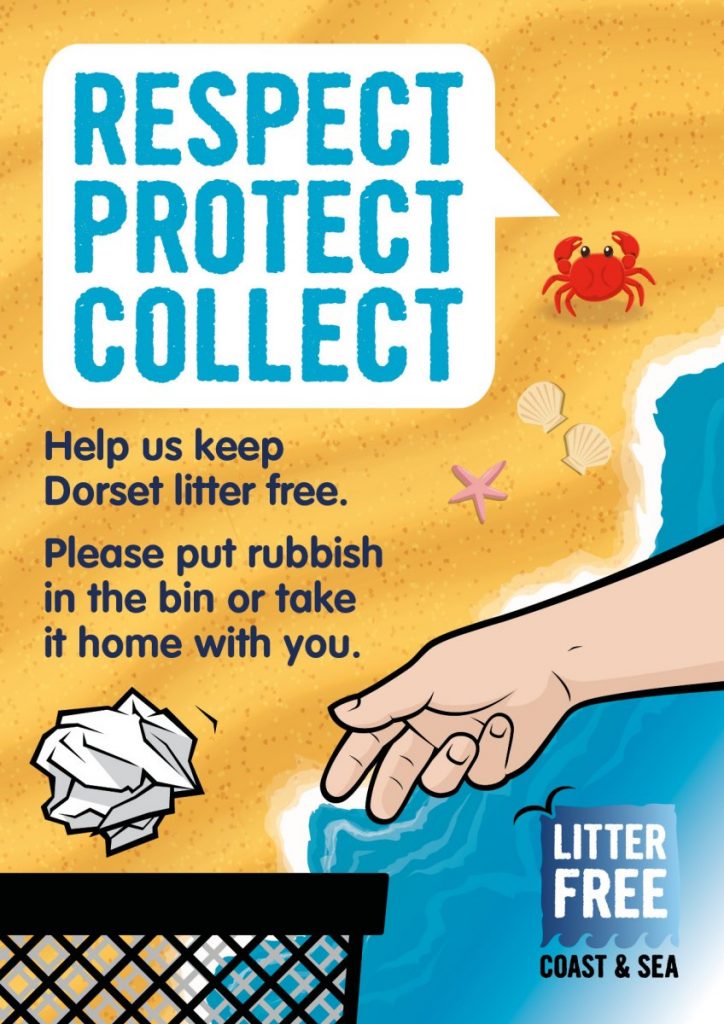 The Theory Behind the Campaign
Respect Protect Collect is fun and non-preachy. No one likes being told of or told what to do, especially at this time when there are so many rules to follow for social distancing etc. We have designed the artwork to be liked by adults and children alike – children are great influencers so if we can get them to like it, they can make sure their parents are following the message!
"Most people who visit this beach use the bin or take their litter home. Will you?"
Some of the banners use the messaging "Most people who visit this beach use the bin or take their litter home. Will you?" Research shows that people don't change behaviour based on rational persuasion; they change to conform to those around them. People are like sheep; we subconsciously copy what others are doing. This is why we have to highlight all the people that DO put their litter in the bin or take it home, not those that do not in our campaign messaging.
Some of the banners also say "We love Weymouth Beach" for example. This is another technique we want to utilise because it helps builds pride of place. By showing visitors to our beaches that there are people here who love it and care for it, research shows that beach goers will be more inclined to show respect for that beach.
Some Dorset beaches have seen an increase in late night beach use and overflowing bins recently so Litter Free Coast and Sea have also designed bin stickers that ask "If this bin is full, please take your litter home." Many people ask why bins cannot be emptied later in the evenings and we have asked the same questions. The problem is that waste collected has to be delivered to waste transfer stations and these places are not open 24 hours. Plus, on most of Dorset's resort beaches the bins are emptied throughout the day from 6 am – 7 pm so these guys do need to go home and rest at some point!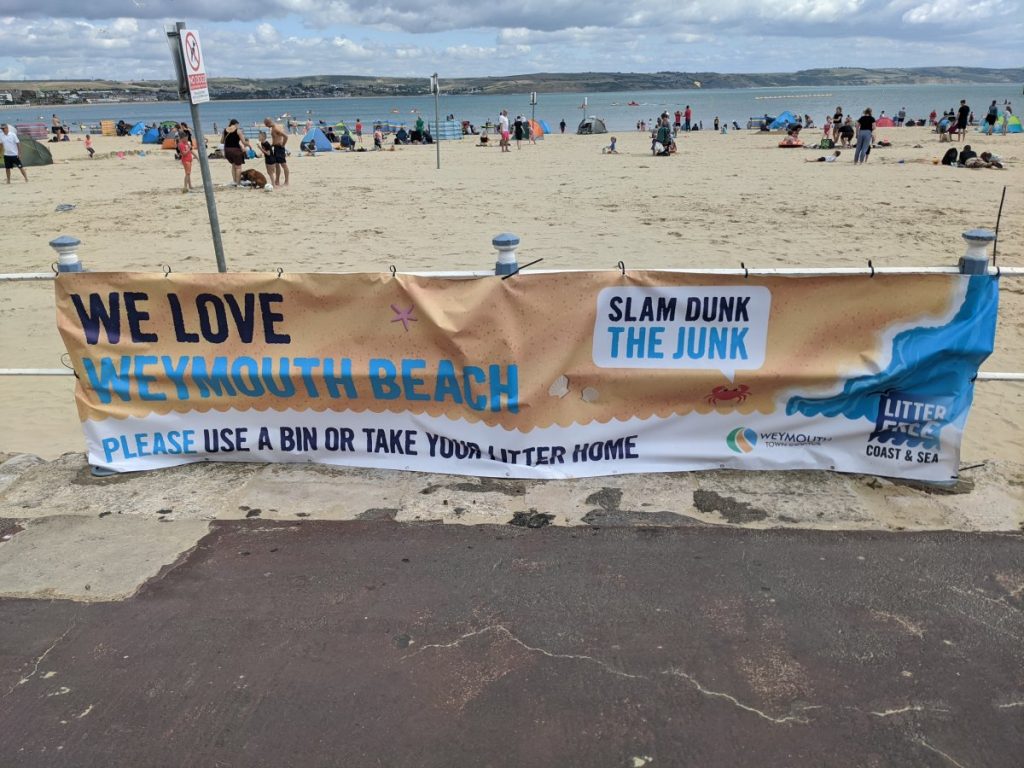 #RespectProtectCollect #BinIt4Beaches