[smartslider3 slider="lfcs-projects"]
Bathing Beach Profiles
A five-year project that launched in 2020
The project aim is to work with agencies, businesses and local groups to engage with communities surrounding beach locations and find collaborative solutions that improve everyone's enjoyment of Dorset beaches.


Our Approach
The first phase of the project is to create profiles of the designated bathing beaches using a variety of data sources including a public survey, interviews with landowners and beach managers, bathing water quality data, and beach clean data. This will enable us to:
Establish what the sources of pollution are and the priorities for action at each beach
Create a baseline for measurement of the success of the project
Work out groupings of bathing waters and which beaches to work on first
The second phase of the project will involve working with local stakeholders to develop tailored campaigns and action plans for each bathing water based on results. This will involve running community consultations to either establish local action groups, or offer support to existing groups.
The final phase will be to review and report on the actions delivered and present data from the beach profiles.


What does success look like?
Our criteria for measuring success is broad because there is no single metric for determining successful outcomes that can apply to every beach within this project. We have identified the following areas to consider for evaluation:
Bathing water quality improved – based on Environment Agency water quality testing data
Marine and beach litter reduced
Current action more co-ordinated across community groups
Increase in community action to reduce litter and improve bathing water quality
Number of businesses that have changed behaviour to have a positive benefit on the local environment


April 2021: Year one update
The past 12 months have seen our beaches welcome unprecedented numbers of people, highlighting the mental health benefits of the coast to thousands, but also placing immense strain on the resources of teams responsible for managing these locations. It wasn't a good a year for reducing litter and we focussed our efforts on supporting beach managers and landowners through our Slam Dunk the Junk campaign and delivering our beaches survey online.
Our primary beach locations for year one and two are at Lulworth, the BCP Council seafront, and two beaches in Portland Harbour either side of Sandfoot Castle.
Lulworth Estate:
Delivered report with recommendations for visitor experience and waste management tactics, following research and interviews with other heritage sites. Set up action group with key stakeholders and community members. Meetings and community workshops to address issues and collaborative action around littering and 'wild' toileting. Action group now working very well together collaboratively.
Co-designed signage using behavioural change principles to set the tone for responsible behaviour and highlight the location of the toilets and bins, including where the last facilities are before getting to the beach. Signs have now been printed and are installed in location: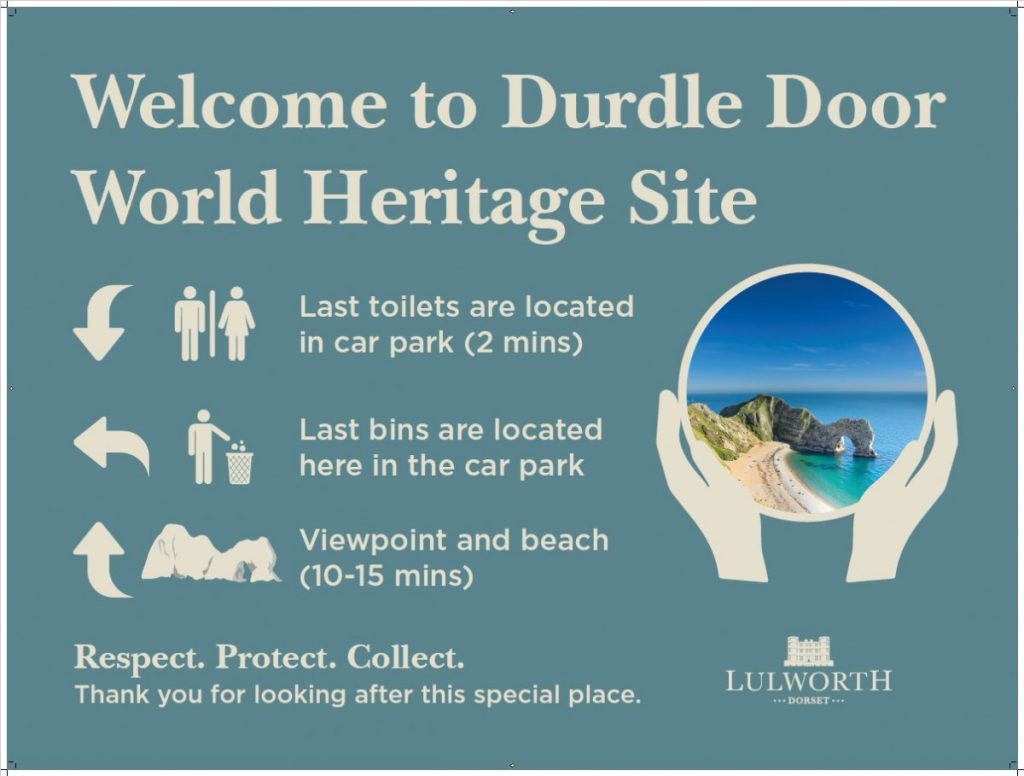 Design and distribution of a 'Litter Action' leaflet to showcase the collaborative work and actions being taken to manage the issues of litter at the beaches and surrounding area.
Bournemouth Christchurch Poole Seafront:
Collaboration with BCP Seafront team and their Leave Only Footprints campaign. Planning campaigns to address cigarette litter and reducing blockages at seafront toilets, plus an engagement campaign with beach hut owners and leaseholders. Ran survey with beach hut owners to understand behaviours to inform the campaign. Also, supplied campaign materials for a dog fouling campaign to be rolled out at Sandbanks and co-ordinating new fishing line recycling bins for Boscombe pier and Southbourne.
Sandsfoot Castle beaches:
 New bin stickers installed on site. Went out to tender for an mural artist to create welcome mural at beach. Planning stand at community event and drain stencil campaign to be delivered in May and June 2021.