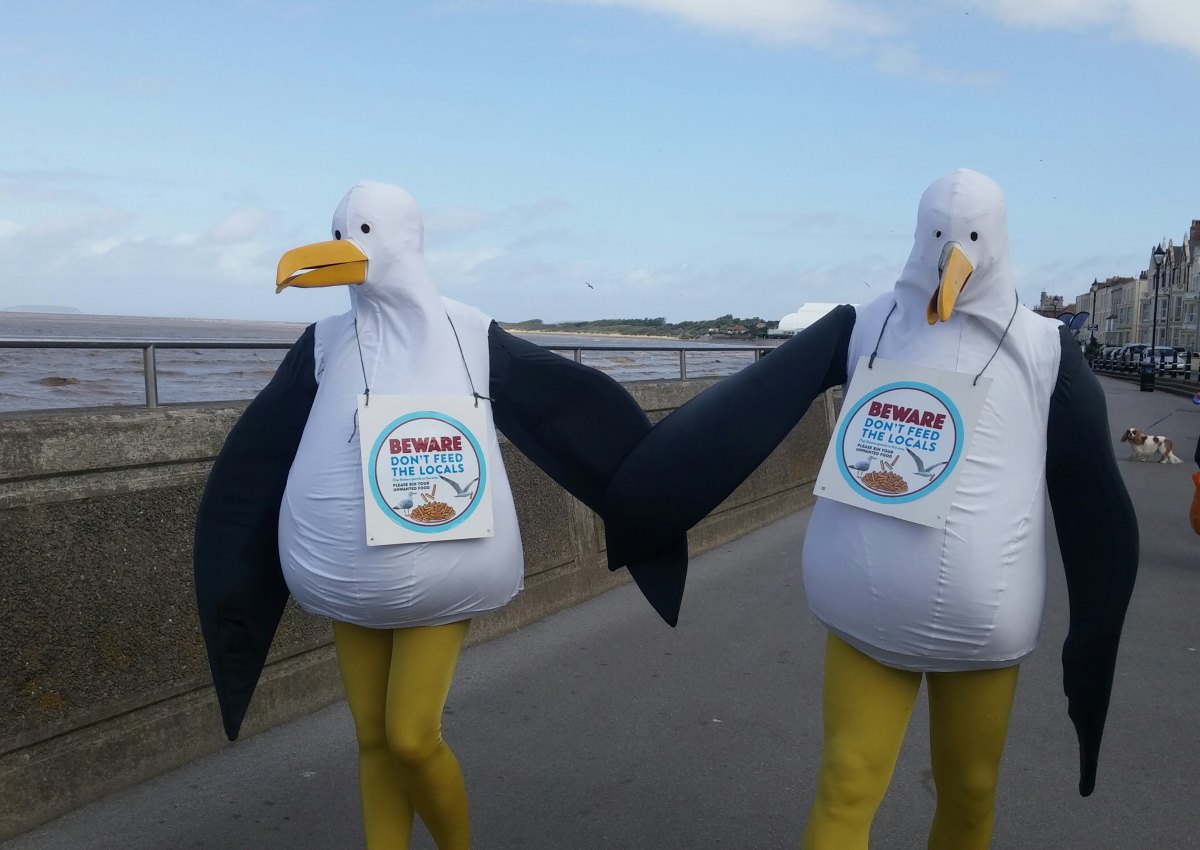 Don't Feed The Locals Campaign
The Problem With Seagulls

Isn't it a pain when a seagull sneakily steals a chip out of your hands? Not only are gulls dangerous when they dive, they end up pooing in the sea where we swim and paddle. This bird poo is a source of bacteria and can negatively impact bathing water quality.
Our Work
The #DontFeedTheLocals campaign began in the summer holidays of 2018. Local take-aways, cafes, pubs and caravan sites in Burnham-on-Sea joined forces as they stood up to seagulls and encouraged their customers to feed the bin and not the gulls.
Before the campaign there was very little evidence of any signage around the seafront at Burnham-on-Sea about why people shouldn't feed the seagulls. Food establishments and campsites put up eye catching, vibrant posters and stickers in their windows and on their fast food packaging all with the same message: 'Don't Feed The Locals'.

How To Avoid Gull Attacks
Eat with your back against a wall: The gulls are less likely to dive on you or sneak up behind you.
Bin any unwanted food in bins provided: Make sure your rubbish is completely in the bin and can't be pulled out again by greedy gulls.
Take your plates back inside the café or restaurant when you've finished.
Keep food close to you and stay alert!
Please don't actively feed gulls: Did you know that throwing food to gulls is classed as littering?
Who Is On Board?
RNLI
Beach wardens
Wetherspoons
Esplanade Fish Bar
The Pier
Victoria Hotel
Burrs Coffee Shop
Take 2 Coffee Shop
Truckles
Tickle Your Tastebuds
Momma's Café
Fortes
The Railway
Roundtower Guest House
Town Council
If you are a business and interested in signing up for the campaign, then please get in touch with us!