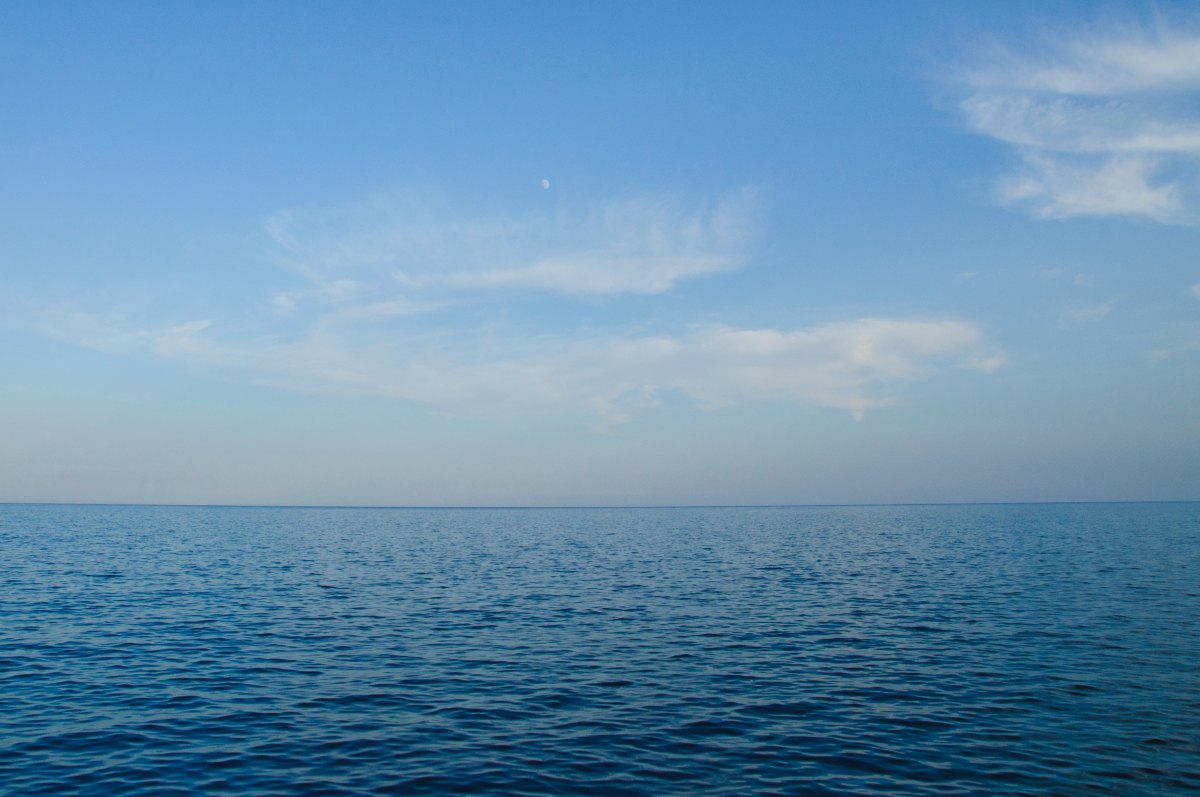 Litter Free Coast and Sea Somerset launched a voluntary Business Award Scheme in 2018 to explore various aspects of local businesses with a view to reducing impact on the coastal environment.
Background
The Business Award Scheme was written to complement other waste campaigns that are known to be running in the local area – particularly the Surfer's Against Sewage Plastic Free Communities campaign which focuses on Single Use Plastics (SUPs) and which Burnham-on-Sea & Highbridge Town Council signed up to early in 2018. By working collaboratively with the Town Council, Litter Free Coast and Sea Somerset has been able to demonstrate joined up thinking and has helped 15 businesses in Burnham-on-Sea, Berrow and Brean to eliminate at least three items of single-use plastic from their operations and has worked with those businesses to source more sustainable, reusable alternatives wherever possible.
Specifically addressing issues linked to bathing water quality which underpins Litter Free Coast and Sea Somerset's work more generally, the Business Award is made up of three different levels – Ripple, Roller, Crest – and is designed to guide local businesses through a range of different actions to ultimately improve on-site sewage, drainage and waste policies.
Why Get Involved?
Sometimes the issues are hard to see. What we throw away, flush down the toilet and pour down our sinks can block drains and sewers allowing litter and sewage to enter the sea after heavy rainfall, affecting the bathing water quality for swimmers and water users.
By taking part in the Litter Free Coast and Sea Business Award Scheme and making a few simple alterations to the way you operate you will help create great beaches free of litter with improved water quality which, in turn, will benefit your business. The scheme is also a great way of boosting your environmental credentials to customers.
Every business can make a difference.
How Does The Scheme Work?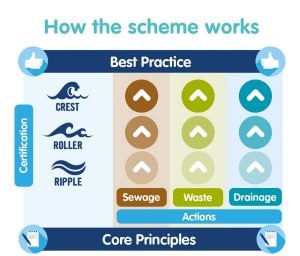 There are three certification levels to the scheme: Ripple, Roller and Crest. Each level of the scheme will take up to 6 months to complete. The options are straight forward and you may have already completed some of the action points and by following the steps outlined on your personal action plan, you will receive accreditation to the Business Award Scheme from the Litter Free Coast and Sea which includes certificates, window stickers and promotion of your business online, on social media and at events.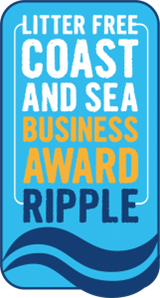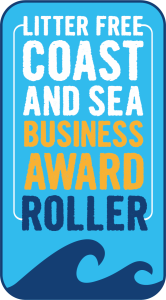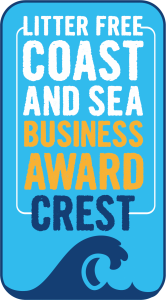 Who Can Get Involved?
Whether you are a café, restaurant, bar, bed and breakfast, hotel, holiday park or campsite, you can make a valued difference to your business, the wider community and the environment. Whether your business is beachfront or further inland, the impact on our beaches and seas can be surprisingly significant, and could even save you time and money.
How To Get Involved?
Sign Up To The Business Award Scheme And Commit To The Core Principles: We'll send you the Action Plan so that you can have a read through and start thinking about the areas of your business that you need to focus on.
Arrange An Assessment: Arrange a time to meet with the Litter Free Coast and Sea team to finalise your action plan and agree a timeline. Regularly check in with Litter Free Coast & Sea to demonstrate your progress.
Receive Your Accreditation: Once we have checked the changes you will receive your Business Award, a window display sticker and certificate so people can see that you are an awarded business.
Get Promoted: We will celebrate the changes you have made through a dedicated page on our website, social media and in the local news.
Share Your Stories: Tell your staff, customers and every else about the changes you have made. Tweet your success stories and feedback from customers and get your business known to wider businesses. Inspire other businesses by sharing your success stories and feedback from customers that really makes your business stand out from the crowds.
Who's On Board?
The Round Tower Guest House, Esplanade, Burnham-on-Sea  *[Completed All 3 Awards]*
Burnham-on-Sea and Highbridge Town Council *[Completed All 3 Awards]*
Burrs Cafe, Burnham-on-Sea
The Princess Theatre and Arts Centre, Burnham-on-Sea
Holiday Resort Unity, Burnham-on-Sea
Eat Festival, Burnham-on-Sea
Gardiner Whites Greengrocer, Burnham-on-Sea
Esplanade Fish Bar, Burnham-on-Sea
The Round Tower Guest House, Burnham-on-Sea
What Our Businesses Say
The Business Award Scheme has given us the opportunity to evaluate our impact on the environment in an effective way and encouraged us to make small changes with a big difference. All elements of the business were covered from the office to the coffee shop and we can confidently say we've improved how sustainable we are. Many of the changes, such as signing up to be a Refill Somerset water station, were very easy to implement.

Emma, Sustainability Coordinator
---